Update March 2021
Despite several months delay to planning due to Covid-19 Lockdown a planning day was undertaken in June 2020 at the Te Kōhaka o Tūhaitara (TKOT) Rangers Station, Tūhaitara Coastal Park with project partners including TKOT, Waimakariri Council, Coastal Restoration Trust and the DOC contract relationship manager. This included inspection of sites from foredunes to landward and selection of planting areas for demonstration and discussion of site and planting treatments.
A workplan and a report on soil characteristics and topography of the transect was completed.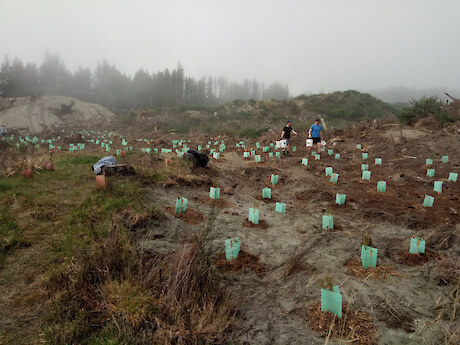 TKOT have completed Year 1 site preparation of part of the coastal sequence site. The first community planting day for this project was undertaken with 100 from the Student Volunteer Army planting over 1000 native trees in August and a further community planting day undertaken in September.
A network of monitoring plots was established to sample across planted sites. Established biota nodes are also being monitored as part of the project to give up to 10 years of growth data on the range of native trees and shrubs planted.
Planning is well underway for the second planting season with a minimum of 5000 native trees, shrubs and sand binding plants within the coastal sequence zone from foredunes to backdunes. The next community planting day is planned for June and further monitoring plots will be established.
Other work has involved the gradual replacement of willows and underplanting with natives, specifically kahikatea to restore the lagoon with indigenous vegetation that supports mahinga kai and spiritual values.
---
In February 2020 the Trust signed a funding agreement with DOC under their Community Fund, to restore a native forest coastal sequence in Tūhaitara Coastal Park, North Canterbury. Here is a
Summary of the project
OBJECTIVES
Te Kōhaka o Tūhaitara Trust and Coastal Restoration Trust will set up a demonstration site of a restored native coastal forest sequence that was typical of north Canterbury.
This 3-year project adds and complements the restoration work already underway by Te Kōhaka o Tūhaitara Trust and their multi-generational vision to restore indigenous coastal ecosystems supporting a diverse range of native flora and fauna species and providing sustainable mahinga kai.
This involves replacing logged pines and marginal pasture with foredunes of sandbinders, mid-zone coastal shrublands, wetlands and lagoons, and landward coastal podocarp forest.
A complete coastal vegetation sequence dominated by indigenous flora and fauna will be more resilient to expected impacts of climate change and provide an excellent demonstration area for other coastal communities and landowners in Canterbury and nationwide.
METHODS
We propose planting and managing a minimum 50 m wide demonstration coastal vegetation sequence linking existing small restoration areas within a high-profile part of the park.
This builds on the restoration work already underway by Te Kohaka o Tuhaitara including the Tutaepatu Lagoon plantings, the network of biota nodes set up by local schools and community groups, the Pines Beach wetland restoration, planting of sand dunes recently logged of pines with natives, and restoring extensive areas of recently retired pasture.
A minimum of 5000 native trees, shrubs, ground cover coastal and wetland species will be planted per year across the coastal sequence in collaboration with community volunteers, school and tertiary students, and local service groups.
Monitoring will involve setting up a series of survival and growth plots on landward sites and point sampling transects on mid and foredune sites in collaboration with volunteer community groups wherever possible supervised by Te Kohako o Tuhaitara and the Coastal Restoration Trust.
Vegetation monitoring will be integrated wherever possible with monitoring of fauna undertaken in the park including changes in insect, lizard, bird and fish diversity and populations over time.
Outputs to include guidelines on essential steps to successful restoration of a coastal flora sequence for north Canterbury and recommendations for other coastal sites nationwide.
COLLABORATION
Collaborating partners include Environment Canterbury, University of Canterbury, Trees That Count, Tāne's Tree Trust, Waimakariri District Council, and numerous local community and resident associations, service groups, schools, and environmental NGOs.