Coastal Ecosystems Reference Database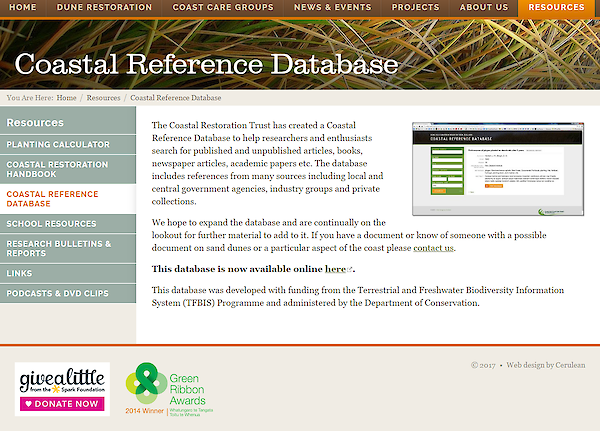 A poster summarising this project can be downloaded here (PDF, 953.64 KB). It may be used and reproduced freely, provided it is not changed. A high resolution file can be provided on request.
The Coastal Restoration Trust initiated this online reference database in 2015, which was originally funded by the Department of Conservation's Terrestrial and Freshwater Biodiversity Information System (TFBIS). The Coastal Restoration Trust continues to fund the updating of the database and from time to time engages university student Andrew La Cock to load a substantial number of additional references to the database, update links, and load pdfs.
This database is an online bibliography of literature and information focusing on understanding, restoration and management of coastal ecosystems in New Zealand.
To date, over 5000 coastal records are included in this database - over half have links to or PDFs of the abstract or full document. This reference database aims to make it easy to find information from both published and unpublished sources relevant to the restoration and management of our coastal ecosystems in New Zealand. Information from both historical and recent sources covers:
coastal dune geomorphology
native and exotic flora and fauna of our dunes
scientific research
practical aspects of protection, enhancement and management of our coastal dune systems
other information relevant to restoration of our dunes and other coastal environments
The database is regularly updated. Please new references and advise of any corrections or further sources of relevant information. It's easy to use - go to the Coastal Ecosystems Reference Database website: http://ref.coastalrestorationtrust.org.nz/
A special acknowledgement is due to one of our founding trustees of the Coastal Restoration Trust Graeme La Cock who has provided, and continues to provide substantial references and sources of documents relevant to this database.