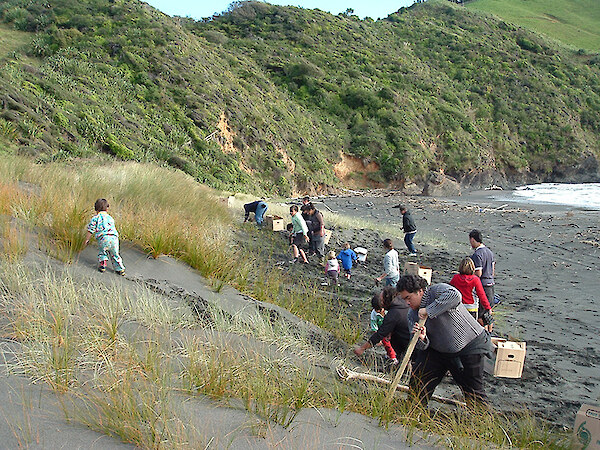 Community-based Coast Care groups throughout New Zealand focus on restoring their local coastal areas including remnant foredunes, wider sand dune systems, estuaries, wetlands and harbours.
Supported by local councils, the Department of Conservation and sometimes local businesses – groups are made up of dedicated local people who have taken responsibility for looking after their local beach and coastline. Most often this will involve understanding the beach processes such as site history and local coastal processes, working with local authorities to develop a restoration plan, attending working bees for planting and weeding and talking with others in the community about the site.
Community-based partnerships have a proven ability to achieve significant dune management outcomes and are very cost effective relative to traditional engineering structures. These partnerships also have considerable potential in promoting increased awareness of coastal hazards and climate change and assisting in the development of more resilient coastal communities.
The maps and Coast Care group pages highlight where groups are working, the types of work they do and how you can get involved.
If you are a member of a Coast Care group, your group can apply for a profile page on this website - it is free. Fill out the form below and we will get in contact with you. Required fields are marked *
Apply for a page for your Coast Care group