Coastal Ecosystems Reference Database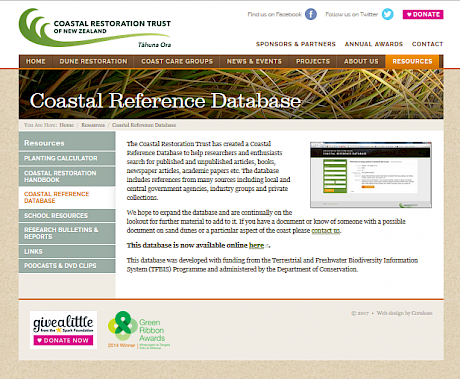 A poster summarising this project can be downloaded here. It may be used and reproduced freely, provided it is not changed. A high resolution file can be provided on request.
The Coastal Restoration Trust initiated this online reference database in 2015, which was originally funded by the Department of Conservation's Terrestrial and Freshwater Biodiversity Information System (TFBIS). The Coastal Restoration Trust continues to fund the updating of the database and from time to time engages university student Andrew La Cock to load a substantial number of additional references to the database, update links, and load pdfs.
This database is an online bibliography of literature and information focusing on understanding, restoration and management of coastal ecosystems in New Zealand.
To date, over 5000 coastal records are included in this database - over half have links to or PDFs of the abstract or full document. This reference database aims to make it easy to find information from both published and unpublished sources relevant to the restoration and management of our coastal ecosystems in New Zealand. Information from both historical and recent sources covers:
coastal dune geomorphology
native and exotic flora and fauna of our dunes
scientific research
practical aspects of protection, enhancement and management of our coastal dune systems
other information relevant to restoration of our dunes and other coastal environments
The database is regularly updated. Please send in new references and advise of any corrections or further sources of relevant information. It's easy to use - go to the Coastal Ecosystems Reference Database website: http://ref.coastalrestorationtrust.org.nz/
A special acknowledgement is due to one of our founding trustees of the Coastal Restoration Trust Graeme La Cock who has provided, and continues to provide substantial references and sources of documents relevant to this database. The database is managed by our trust's administrator Lyneke Onderwater, with assistance in updates by Michael Bergin.
Restoration of Indigenous Biodiversity on Coastal Backdunes, 2011 – 2014
For three years the Coastal Restoration Trust (then Dune Restoration Trust) worked in partnership with the Ministry for the Environment, Coast Care groups, iwi, DOC and Councils around the country to research best practice methods for long term backdune restoration.
The following articles highlight key outcomes of this project. We would like to thank all the individuals and organisations who have worked with us and helped resource this project. In particular, we acknowledge the Ministry for the Environment CEF Team for partnering with us and investing in the long term future of New Zealand's coastal sand dunes.
A summary of the project can be downloaded here and articles can be found here in the Coastal Restoration Trust's Coastal Restoration Handbook.
Read updates in our project newsletters:
We thank the following partner organisations for their funding and ongoing involvement in this three year project.

For further information on any of these projects please contact Enable JavaScript to view protected content..
Ministry for the Environment - Sustainable Management Fund
Project Brief: Empowering coastal communities to adapt to climate change.
Ministry of Agriculture and Forestry - Sustainable Farming Fund
Project Brief: Adapting productive coastal landuses to Climate Change.
Development of reliable techniques for raising low-cost spinifex seedlings for dune revegetation programmes - seed collection, handling and germination techniques as well as vegetative propagation.
Spinifex phenology - flowering and seeding studies
Fertiliser requirements of existing spinifex and pingao cover on coastal foredunes, Bay of Plenty
Restoration of exposed sites - establishment of mixtures of spinifex and marram grass on foredunes at Santoft, Rangitikei
Restoration of exposed sites - establishment of natural sand-binding plants on mechanically-shaped dunes in Oakura, Taranaki
Restoration of exposed sites - establishment of spinifex and pingao on unstable dunes at Te Henga/Bethells Beach, Auckland
Establishment of indigenous plant communities on foredunes and backdunes at South Brighton, Christchurch
Restoration of indigenous plant communities on semi-stable and stable sand dunes
Propagation and establishment of Euphorbia glauca (shore spurge)
Review of rabbit and hare control methods on sand dunes
Scoping Report on Developing a coastal dune ecosystem database. This led to a project developing such a database.