What do we know about the impacts of vehicles on beaches in New Zealand? An annotated bibliography of information.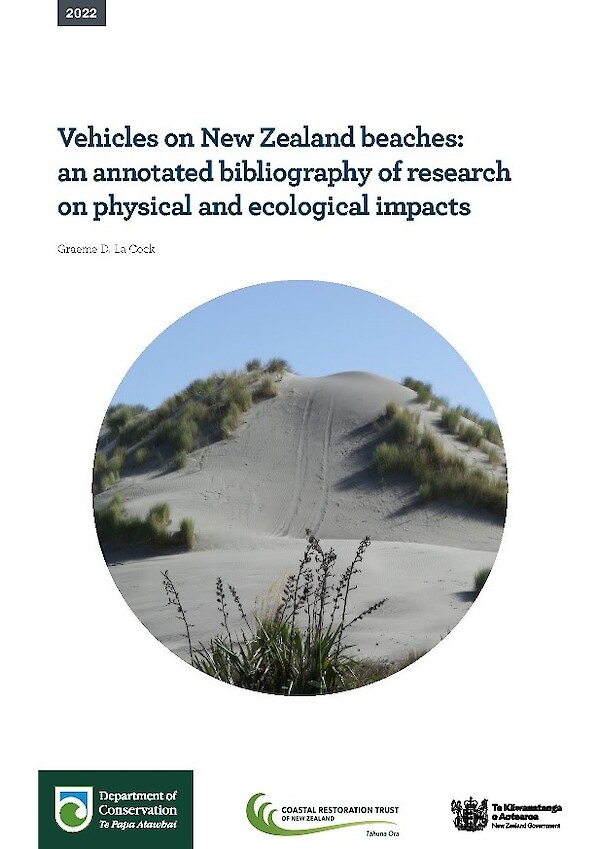 Graeme La Cock (Trustee and DOC)
For coastal communities concerned about their beaches and dunes, vehicle access is always a hot topic. Department of Conservation and council staff share similar concerns.
I wear two hats, one as a trustee of the CRTNZ, one as a technical adviser for DOC. One day a few years ago, while I was minding my own business as usual in DOC's Kenepuru Office, there was a flurry of activity about a friendly person caught driving illegally in the scientific reserve at Waikanae Estuary. He'd politely enquired about New Zealand evidence on vehicles damaging beaches. With my interest in coastal issues, I got roped in. With the help of my networks I found enough for the manager to make an informed decision, but it wasn't a lot. It also wasn't collated in any way.
Since then I've scavenged and scrounged reports, leading to the publication of an annotated bibliography on the subject. The aim was to make these reports available to decision makers and communities facing the issue of vehicles on their beaches, so links are provided for almost all of them. Feel free to share it as you please; that's what it's for.
In 1999 Gary Stephenson reviewed vehicles on beaches in New Zealand for DOC. Much of his advice was based on overseas literature, and he highlighted what was lacking from a New Zealand perspective. Subsequent guidance documents, e.g. by DOC, the Trust and various councils, also relied heavily on overseas work.
What did I find? Has there been any progress?
When one considers the 1994 New Zealand Coastal Policy Statement didn't mention vehicles, having a policy on them in the 2010 NZCPS is significant progress. There has been progress in some fields, but others are still lacking.
Shellfish have the best coverage, with bodies of work centred around Northland, Canterbury and Otago/Southland. The early work on the mechanism of vehicle impacts on toheroa on Ninety-mile beach is fascinating, but for me the way Moller et al (2014) pulled together the work on Oreti Beach was a highlight. With the body of work around New Zealand on shellfish I believe there's enough to draw on for decision makers in this field. Unfortunately no other field of study comes close.
Another outstanding body of work is that initiated by Marlborough District Council following uplift of their beaches after the Kaikoura earthquake. It includes the only quantitative work on impacts of vehicles on birds (Orchard et al 2022).
Quantitative studies on impacts on vegetation are also lacking. There's one example in New Zealand – I included data from my son's primary school science fair project on damage to spinifex at Castlecliff in Horizons One Plan evidence (La Cock 2008). I haven't found any studies on impacts on reptiles, mammals and insects.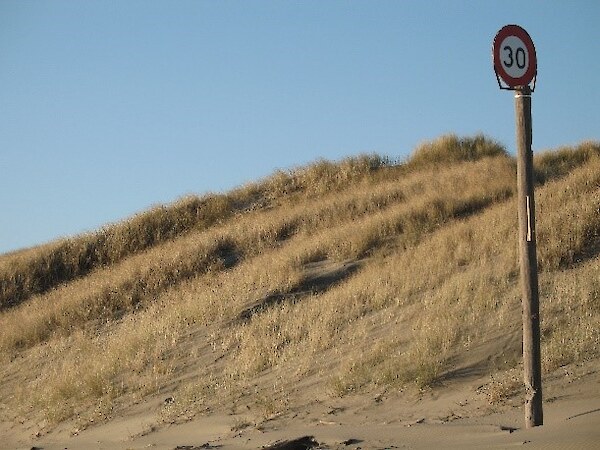 Only five of the 38 reports are published in the scientific literature. The rest include undergraduate projects and theses, and consultancy, crown research and government agency reports. I was encouraged by the more recent undergraduate and postgraduate work being based on drone imagery, GIS spatial analysis and remote sensing techniques.
There's hope for the future, but there's a lot of scope to do more, especially on plants, birds and other terrestrial fauna. I recall the same message in 1999.
The NZCPS 2010 has a powerfully worded policy on vehicles on beaches. Hopefully this bibliography will assist decision makers and the public.
The bibliography is here: https://www.doc.govt.nz/globalassets/documents/science-and-technical/vehicles-on-new-zealand-beaches-g-la-cock.pdf .
Posted: 29 November 2022 in the News category