The Rakiura Dune Restoration Programme (1999-2021)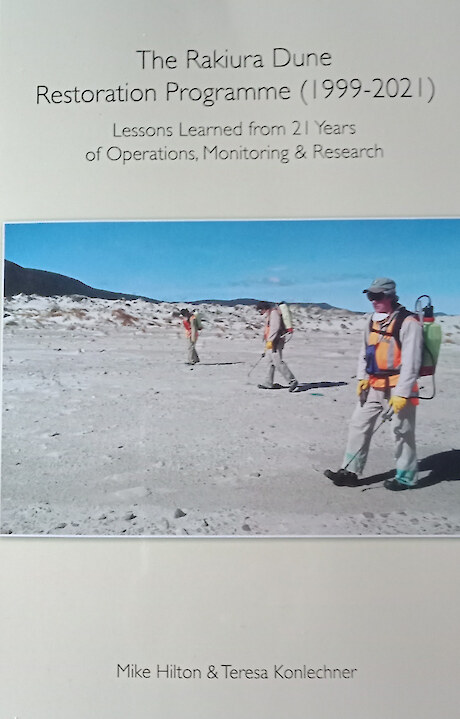 Like many of you I was looking forward to Mike Hilton's talk at the Southland conference in 2020. Unfortunately he had to cancel in order to sort out remote learning at Otago University in response to reports of Covid in NZ. DOC staff also got pulled, but some of those attending managed to go on the weekend field trip to Mason's Bay on Rakiura. Many others have visited these dunes.
If you wanted any details about the work out there, Mike Hilton and Teresa Konlechner used their lockdowns constructively and produced a book "The Rakiura Dune Restoration Programme (1999 -2021)". In their words, they did it to celebrate the 21 years work by DOC rangers in Southland. I see it equally as a celebration of a dedicated staff member who's put a couple of decades into the site and the subject, of the students who were involved, and of their desire to impart this knowledge to DOC staff and managers. Teresa's headed for a decade or more of her own involvement there.
This is a really good synthesis of the work done there by Mike and his students, building our understanding of specifically marram grass. It's a bit like a detective story, how the bits and pieces of knowledge gleaned from different studies have been used to build an understanding of how the dunes and marram function, and what needs to be done to manage the marram. It provides a good overview of the situation and the future, and anybody facing a marram issue will gain a lot from the book. It's amazing what can be achieved when management is backed by good science.
Many of the references in here will be in our reference database, the rest will be added shortly.
The book can be downloaded here.
Graeme La Cock
Trustee
Posted: 1 March 2022 in the News category