A project replacing coastal pines with native coastal forests is being run by Tāne's Tree Trust and supported by us to the tune of $2500 per year for three years as well as in-kind support. This project is funded by the Ministry of Primary Industry's Sustainable Farming Fund as well as advice, labour and funding from our many council, forestry, iwi and community project partners. Here is the first update about this project:
Coastal buffers planting gets underway - July 2019
Planting has started in the Coastal Buffers project led by Tanes Tree Trust, which the Coastal Restoration Trust is supporting. The project is exploring practical options to transition failing exotic coastal forest margins to resilient permanent buffers made up of native coastal species.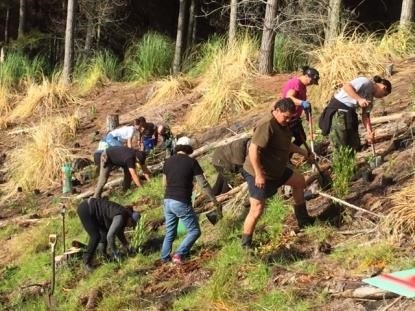 Planting of plots during community planting day Kawhia Forest, WaikatoTo do this, trial sites have been established at Te Hiku (Far North), Kawhia (Waikato) and Opoutere (Coromandel).
The plant species selected for the trial plots reflected the range of possible historic coastal forest species at each of the sites but constrained by eco-sourced plant availability. For the exposed open coast plots only a limited selection of hardy primary canopy species was used.
In total over 6,500 plants will be put in the ground this winter by project partners and community volunteers. The survival and growth of these trees will be monitored as part of the project and planting will continue at the three sites next year.