Hauraki Gulf Marine Park Conference on 27 August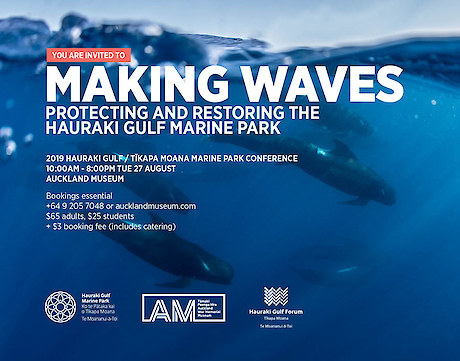 Join the Hauraki Gulf Forum on Tuesday 27 August 2019 at Auckland's War Memorial Museum / Tāmaki Paenga Hira to take forward the Hauraki Gulf Forum's recently announced recommendations for the Marine Park:
● That at least 20% of the waters be protected; and
● That 1000sqkm of shellfish-beds and reefs be restored.
From late morning into the early evening, the Forum's flagship public annual event will feature headline expert speakers, panel debates, facilitated breakout sessions, the annual Holdaway awards, and a genuine participatory process designed to bring forth the best ideas from all participants and ensure that all voices are heard. Download the programme.
Buy your tickets here:
https://www.aucklandmuseum.com/visit/whats-on/series/hauraki-gulf-marine-park-seminar-2019
Posted: 9 August 2019 in the Events category