Cooks Beachcare takes home the CRT Restoration Award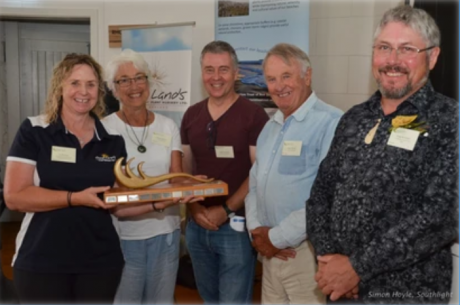 We congratulate Cooks Beachcare on being awarded our Restoration Award this year. This award is kindly sponsored by Coastlands Plant Nursery. It was reported in a newspaper article in the Mercury Bay Informer.
Here is some detail of what the group has been up to since its inception:
Around 2010 a group of local residents of Cooks Beach became concerned with the state of the dunes along the foreshore of the beach. Noxious plants, garden "escapees" or dumped rubbish had become rampant and were threatening the health of the dunes and their native plants.
Cooks Beach is about 2kms long and the initial focus of the group has been on the 1km of the dunes which lie between a local road and the beach.
So it began that on Thursday mornings a group of volunteers, whose numbers range from 1 to 12 and who have a fair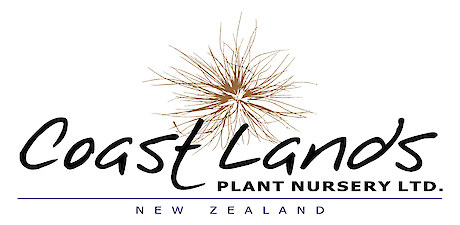 sprinkling of grey hair, would meet and spend around 2 hours working on the dunes. We work from February to December, weather depending. However, our records show that from 2010 to 2015 we averaged around 600 hours per calendar year and from 2015 to the end of 2018 as our numbers grew the average hours increased to 1000 per calendar year. This equates over our "active" period to a contribution of some 7000 hours. At a charge rate of say $30 /hour the value of the contribution is given perspective.
The initial target was blue pea (Polygala fruticosa) which was of such a size that chain saws were necessary. Each year the group has worked the length of the 1km strip to the point where there are fewer and fewer blue pea plants each year with no plants now maturing to the flowering stage.
Of equal concern was agapanthus which was flourishing. In 2016 we obtained a grant from the DOC Community Fund for a three-year spraying programme which has reduced the masses of plants to a number which, after this year's spraying, we will be able to maintain or eliminate by hand.
A DOC Community Day in 2017 saw 18 volunteers attacking ice plant, another wide-spread pest. From a strip about 30m wide and 60m deep plants were removed and when weighed at the Council dump totalled over ½ tonne. It quickly became apparent that this plant could not be practically removed by hand and our Council, recognising the problem, has made sufficient funds available for a two-year spraying programme which should see the ice plant eliminated or reduced to small patches which can be controlled by hand.
By hand weeding and spraying we have also attacked cotoneaster, ivy, agave, blackberry and gazania which were all present in significant amounts.
The positive aspect of our work has been successive annual planting programmes for which plants, mainly spinifex, pingao, club rush and muehlenbeckia have been supplied by Waikato Regional Council and Thames Coromandel District Council. Community planting days have been held and the public, school groups, students from a local foreign language school and "Keas" have joined our volunteers in planting in over 4,000 plants in each of the last three years.
As added activities of the group we have developed and presented a beach care and plant identification programme for a local primary school. In the nesting season members of the group are active in protecting the nests and young of dotterels and oyster catchers which are both present on our beach.
A recent highlight for us has been the disclosure that our beach is one of the largest and last locations on the Coromandel Peninsula for sand daphne or Pimelea villosa with natural patches now being supplemented by new plants. We are very proud guardians of this diminishing native plant.
We have not been as good at the before-and-after photos as we should have been but as we gather each week and find fewer and fewer pest plants and can see the growth of the planted areas there is a pride and satisfaction in what we are achieving.
We have been fortunate to have had Jim Dahm as our consultant and adviser and our relationship with and support from WRC, TCDC and DOC has allowed a good successful working partnership to develop and flourish.
The group maintains a website at cooksbeachcare.org.nz which shows our activities. Go to "Our work" and click on " more information" on any of the activity panels to bring up the supporting photographs.
Posted: 24 April 2019 in the News category