Community rebuild underway at Sumner Beach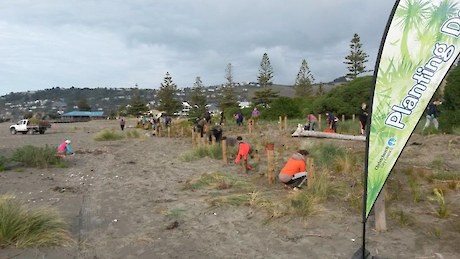 Last Saturday Sumner beach was buzzing with community activity as local volunteers (70) worked with regional parks coastal rangers to undertake the annual winter sand dune planting programme. 'Coast Care' ranger Jason Roberts has worked closely with the Sumner Environment group and others for several years to facilitate regular beach work days, which have included tasks such as walkway construction, weed removal and restoration plantings.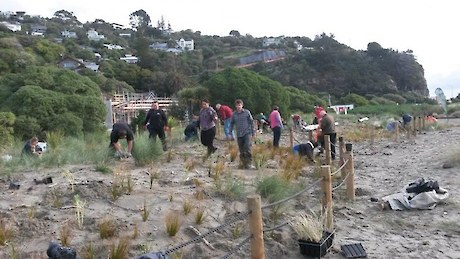 Not only will the 2000 new plants help stabilise the dunes, reducing sand blow nuisance, and reinstate native species to our coast, but they will also build a basic buffer dune to protect the adjacent Sumner Surf Lifesaving Club and future Coastal Pathway route. The club facility, presently being rebuilt, (cf. scaffolding in photo background), will combine a new set of public toilets and landscaping, funded by CCC Parks Unit, to enhance the whole beach area, improve visitor experience and help build pride for the local community.
If you want to be involved in any future Sumner Environment Group events, get in touch with Enable JavaScript to view protected content.
Posted: 25 June 2015 in the News category